Athletics
Congratulations Varsity Baseball - 2013 District Champions! 4-PEAT!!!

A Note From The Athletic Director:
Welcome to Athletics at CSCA
I would like to welcome you on behalf of the athletic department at Coral Springs Christian Academy. We strive to provide a Christ Centered, competitive atmosphere where success is defined as knowing you've done your best for the good of the team. We believe extracurricular activities are a privilege and that student athletes should be held to a high standard. Sportsmanship, selflessness and service to others are values that are stressed on every level of athletics at CSCA. We offer 14 varsity level sports, as well as, junior varsity and middle school level sports. Our athletic program is fortunate to have enjoyed a tremendous amount of success in a short period of time as ten of the fourteen varsity sports have won at least one individual or team district championship. We are excited to see what the Lord has in store for CSCA athletics in the future.
In His service,
Steve Fitzgerald
Athletic Director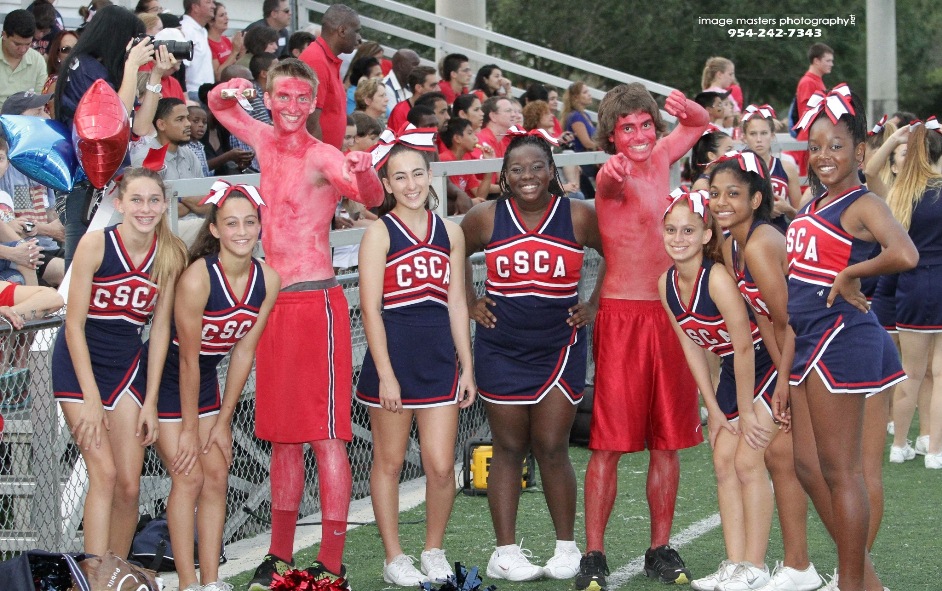 Sports Offered at CSCA:
Schedules:
Latest Announcements:
May 16: Volleyball: Volleyball meeting Friday 5/17 after school

Upper School Parents and Students,

There will be a volleyball informational meeting this Friday, May 17th. It will be right after school in the science room next to the Upper School Office. All girls interested will be receiving a summer workout schedule, information on team camp, and try-out dates. I am very excited about this upcoming season and would love to have a larger turn out this summer as well as at try-outs. I hope you have a wonderful end of the year and a restful summer!

For His Glory,

Rachel Holz

Varsity Volleyball Coach
Latest News:
May 16: Crusaders at the Next Level - Baseball: Atkins Makes 1st Team All Conference: Congratulations to Crusader Alumni Billy Atkins for making the Sunshine State Conference All Conference 1st Team! Billy who plays for Barry University was the only Freshman to make the team! Way to Go Billy!
May 7: Varsity Baseball: Regional Finals @ Florida Christian, Friday May 10th; 7:00pm: CSCA Crusader Fans,
The Varsity Baseball team would like to thank all of you who showed up to support us in our Regional Games here at CSCA. We are proud to have advanced to the Regional Final, but are focused on 2 great days of practice and the opportunity that lies ahead on Friday night: a chance to advance to states with a victory. Our Game will be at Florida Christian School in Miami at 7 PM on Friday the 10th.
We would love to pack the stands and show Miami the same school spirit we did when the Basketball team made its run in February. The game is about 44 miles from CSCA and is probably an Hour Drive. I would encourage everyone who is going to leave around 5:15, 5:30 as there is limited bleacher space at Florida Christian.
If you are a student and are interested in a fan bus, please see Mrs Emmets in the Upper school office by lunch time tomorrow. It will be $10 to ride the bus, and admission to the game is $7. If you are not interested in the Bus, find a way down there. We love and cherish the support of all of our students, parents, alumni and staff. We'll see you there on Friday.
Here is the address to the school: Florida Christian School 4200 SW 89th Ave Miami, FL 33165 (click link below)
Thanks in Advance for your Support,
Coach Cleveland
May 6: Spring Sports Awards coming soon: Spring Sports Awards will be held on Monday May 13th. The evening will begin with fellowship & refreshments outside the chapel at 6:30pm. The Awards will begin at 7:00pm in the chapel. Please come out and support our Spring athletes as we honor them for their achievements this season.
May 4: Varsity Baseball: The Crusaders move onto the Regional Semifinal after their victory over American Heritage Delray on Thursday. The Crusader Baseball team will be playing on Tuesday 5/7 at HOME against Pope John Paul in a Regional Semifinal matchup. The Crusaders look to continue their march to States and need the support of the home fans! Please remember the FHSAA mandated admission fee is $7.00. Gametime is at 4:00pm. Come early and pack the stands! We NEED all the Crusader Crazies out there to support our team! There will be full concessions, including hot dogs and hamburgers available. Grill will be ready to go at 3:30pm. Lets Go Crusaders!
May 2: Varsity Baseball: Toussiant's Gem Leads Crusaders into Regional Semi's: Touki Toussaint dominated American Heritage Delray hitters Thursday at Ken Holz Field, leading the Crusaders to a hard-fought 1-0 victory over the Stallions. With everything working, Toussaint put his team on his back and delivered his best performance of the season, striking out 12 and walking none. He also went 2-3 at the plate and moved the winning run, Sophomore Pemron Burrows from first to third with 1 out in the bottom of the 5th. Benito Santiago then delivered a 2-strike RBI single for the game's only run. Eric Hepple and James Buckley added hits for CSCA (21-6) who will now play Pope John Paul on Tuesday at home at 4 PM. GO CRUSADERS!
UPDATED May 1st: Varsity Baseball Regional Game - Game time changed to 1:00pm: Due to the forecast of inclement weather tomorrow, Thursday May 2nd, the region quarterfinal baseball game against American Heritage-Delray will start at 1:00 pm instead of 4:00 pm tomorrow afternoon at Crusader Field. Please come out and support our Crusader baseball team as they just won their 4th straight district title and look to make a run in the state playoffs. There is a FHSAA regulated admission charge of $7.00
April 26: Varsity Track: Crusaders Finish Strong at States: The Crusaders finished Track season on a high note with 3 individuals competing at the State tournament on Friday. Congratulations to the following Track Crusaders who competed at States today!

DeLise Williams (pictured middle) - Finished 2nd in the 300m Hurdles (44.9)
Mason Van Houtteghem (pictured left) - Finished 5th in the Pole Vault (13"6')
Julia Lindbergh (pictured right) - Finished 6th in the High Jump (5"0')
April 25: Varsity Baseball: DISTRICT CHAMPIONS! 4-PEAT!!! Two Hard Fought victories over Westminster Academy (8-5) in the Semifinal on Wednesday, and against Highlands Christian (6-2) in the District Championship game Thursday night gave CSCA it's 4th straight district championship Trophy! In the Championship game vs. Highlands, Eric Hepple went the distance on the mound giving up 2 runs, one earned on 6 hits and 9 strikeouts. He also had 3 RBI and went 2-4 at the plate. Abraham Alejandro who hit the grand-slam to put the Crusaders on top Wednessday vs WA, once again had the big hit Thursday vs Highlands. With the Crusaders down 1-0 in the bottom of the fourth, Abraham hit a 2-strike, 2-out RBI double and then scored on a fielders choice to give the Crusaders the lead. They would never relinquish it. Benito Santiago and James Buckley also added 2 hits for CSCA. CSCA will now host American Heritage Delray on Thursday May 2nd at CSCA at 1 PM in the Regional Quarterfinal (Note game time change). Congratulations Crusaders!!!
April 25: Varsity Baseball: The Crusader Baseball team will be playing Highlands tonight for the District Championship! Gametime is 7:00pm, and the game is hosted at Highlands. Come out and support the Crusader Baseball team as they go for their 4th District title in a row! Go Crusaders!
April 24: Varsity Baseball: Crusaders defeat WA 8-5 to advance to the District Championship Game! Touki Toussiant got the hard fought victory and was helped by 3 excelent innings in relief by Brandon Rodrigues. Abraham Alejandro had the big hit of the Night when he hit a grand slam in the 3rd inning that broke open a 4-3 game and gave CSCA a 8-3 lead. Toussaint added 3 hits, and Joey DePalo had a big RBI single as well. The Crusaders will face Highlands Christian Thursday night at Highlands at 7:00pm for the District Championship! Go Crusaders!!!
April 23: Varsity Baseball: Sun-Sentinel Article: Coral Springs Christian Trio of Aces Tough to Top: The Crusaders pitching trio of Devin Meyer, Touki Toussaint and Eric Hepple were featured in an article in the Sun-Sentinel today. Click the link below to read the story...
April 19: Varsity Track: Congratulations to the following Crusaders who qualified for the State Track Meet at Regionals last week.

Mason Van Houtteghem (Pole Vault - 13'0")
Julia Lindbergh (High Jump - 5'2")
DeLise Williams (300m Hurdles - 44.66) -DeLise broke the school record of 44.83 which was set back in 2007 by Catie Bowne (Catie won 8 individual State titles in her career at CSCA). DeLise's 300m Hurdles event can be seen in the video listed below (at the 4:35 minute mark). She came in second to a hurdler from Upperroom Christian in a photo finish (44.65) [click here for video]
April 16: Varsity Boys Basketball: Coach Steve Fitzgerald has won the Florida Coach of the Year for Class 3A! After leading the Crusader Boys Basketball program further than they've ever gone this past season, Coach Steve Fitzgerald has been recognized with Florida Coach of the Year honors in Class 3A, awarded by the FABC (Florida Association of Basketball Coaches). Coach Fitzgerald led the Crusaders to the State Championship game, falling short vs. Providence School of Jacksonville. The Crusaders played one of the most competitive schedules in the State of Florida this past season and beat many of the top teams in state, regardless of class size. Coach Fitzgerald also won the Sun-Sentinel Coach of the Year for Broward Small Schools. THE FABC selects Players of the Year, and Coaches of the Year for each classification in Florida each year. The FABC released the winners to local papers today. Coach Fitzgerald is mentioned for winning the Coach of the Year in the article below. Congratulations Coach Fitz!
April 11: Varsity Baseball: Solid Pitching, Hepple's Blast Lead CSCA over Calvary 4-2: Colin Taylor, Brandon Rodrigues, and Touki Toussaint Combined to pitch 7 solid innings, giving up only 1 earned run on 5 hits as CSCA defeated Calvary 4-2 in the final district regular season game of 2013. [read more...]
April 11: Girls Basketball: Congratulations to DeLise Williams who was named to the FloridaProspects.com Class 3A All-Florida Second Team! Way to go DeLise!
April 8: Varsity Baseball: Toussaint Returns with 2 HR, Leads Crusaders Over Highlands 9-3: Junior Touki Toussaint returned to the lineup & blasted two HR and had 4 RBI in his return, leading CSCA over Highlands on Monday Night. CSCA (17-4) plays it's final District game of the year at Calvary at 4 PM Thursday. [read more...]
April 2: Varsity Baseball: 6 Run 2nd propels CSCA over WA 10-1: CSCA banged out 11 hits including 5 in a 6 run 2nd inning en route to a big 10-1 district victory over Westminster on Tuesday. [read more...]
March 29: Varsity Boys Baseball: Crusaders fall 8-1 to Lake Brantley in FHSI Championship Game: Colin Taylor pitched 4 great innings Friday night in Orlando for CSCA. He took a scoreless tie into the 4th inning. After a couple of hits, and a couple of errors, Lake Brantley led 6-0. Taylor only gave up 2 earned, but the deficit was too much for CSCA to overcome. [read more...]
March 28: Varsity Boys Baseball: Crusaders Beat Heritage 4-3, Advance to FHSI Championship Game: Eric Hepple went the distance in a Gutty outing outlasting a tight strike zone and a couple of defensive mistakes in CSCA's FHSI semifinal game against Regional Rival American Heritage Delray. [read more...]
March 26: Varsity Baseball: Solid Offensive Day leads Crusaders Past Lake Minneola 9-1: CSCA won it's second game at the FHSI Classic and landed itself into the Semi-Finals of the National Tournament. [read more...]
March 26: Varsity Boys Track: Boys Track Recap: Cardinal Gibbons Meet: The CSCA Boy's track team did well at the Cardinal Gibbons Track Meet on Tuesday. In the field events, Mason Van Houtteghem tied a person record of 12'6" in the pole vault, Alaowei Talent set a personal best in the Shotput at 40'8.5" and Nura Zanna had a personal best in the high jump of 5'10". In the 1600 meter run Nick Mena had a personal record of 5:25 and Geoffrey Still had a personal record of 5:40 [recap by Geoff Still]
March 26: Varsity Girls Track: Girls Track Recap: Cardinal Gibbons Meet: The CSCA Girls track team performed well against tough competition on Tuesday at the Cardinal Gibbons Meet. Julia Lindbergh came in 2nd in the Girls High Jump clearing 5'2" [recap by Geoff Still]...
March 25: Varsity Baseball: Toussaint's Big Day Leads Crusaders Past New Smyrna: Touki Toussaint went 3-4 with 2 HR and 6 RBI on Monday at Sanford Stadium. His Grandslam in the bottom of the sixth busted open a 3-2 game and gave the Crusaders a nice cushion for the 7th inning against a solid team from New Smyrna Beach. [read more...]
March 12: Varsity Softball: The Crusader Softball team loses to Highlands Christian 11-0. The game was tight at 4-0 until Highlands broke through for 7 run in the 6th inning. The Crusaders are now 0-6 on the season. The next game will be Friday March 15 at HOME vs. Lake Worth Christian. Gametime is 4:00pm.
March 11: Varsity Baseball: Crusader Baseball vs. Calvary on Saturday is the BrowardHighSchoolBaseball.com Game of the week!: [read more...]
March 11: Varsity Softball: The Crusader softball team jumped out to an early 3-0 lead against Zion Lutheran, but couldn't hold on as Zion came back and won the game 5-3. The Crusaders take on Highlands Christian at HOME on Tuesday March 12 at 4:00pm
March 9: Varsity Baseball: Miami Herald Article "Stock of Coral Springs Christian pitcher Touki Toussaint continues to rise": [click here to read more...]
March 7: Varsity Softball: The Crusader softball team falls to Westminster Academy 16-1 on Thursday afternoon. The Crusaders will be back in action on Monday March 11th on the road vs. Zion Lutheran. Gametime is 4:00pm.
March 6: Crusaders at the Next Level: Former Crusader Girls Basketball player Alissa Diaz was named the Player of the Year for the South Atlantic Conference! Alissa, a Senior at Anderson University in South Carolina was also named Player of the Week for the SAC Conference three times this past season. Alissa was also named tournament MVP at a Thanksgiving tournament this past year in Alaska. Alissa scored her 1000 point earlier in her Senior season, and is now among the top 10 scorers all-time at Anderson University. Congratulations Alissa!
March 5: Varsity Softball: The Crusader Softball team got behind early, and lost to Calvary by a score of 12-2. The next game is at HOME vs. Westminster Academy on Thursday March 7th at 4:00pm
For all the Crusader Athletics News for the 2012/2013 School year, and previous years, please visit the Athletics News page

Athletics Information:
For other Athletics Department information, please visit the Athletics Information link on the left.
GO CRUSADERS!!!
Follow Crusader Athletics on Facebook & Twitter - Click the logos below
For comments, submissions, or questions about the Athletics portion of the CSCA Website, please send an email to the CSCA Athletics webmaster, Greg Severine at